In addition to interior design software that can be used to design entire homes or individual rooms, you can also get bathroom design tools that are typically software options with bathroom design features.
This page is part of our popular home design software section but emphasizes bathroom design tools.
A. Free Bathroom Design Tool Options
1. Home Stratosphere's Interior Design Software
Click here to try our free bathroom design tool (software).
2D and 3D design.  Any room of the house.  Easy to use.  Nothing to download.
Screenshots/Video:
ShapeElementsFurnitureToiletsWash BasinsBaths & ShowersAccessories
2. Planner5D
Click here for Planner5D.
This too is free and entirely online (nothing to download).
Design any room of the home including bathrooms.  Decent options and easy to use.
FYI, if on mobile devices, it's best to get the app.
Screenshots/Video:
ShapeElementsFurnitureToiletsWash BasinsBaths & ShowersAccessoriesVideo
3. Home Hardware Design Centre
Home Hardware offers two interior design tools.  One is for kitchen design software.  The other is color selection.  Neither are bathroom specific, but can the color selection platform can be used for bathrooms.
Screenshots:
4. HomeByMe
Touted as full home design software, this option can be used as a bathroom design tool if that's all you're designing.
Below we offer a series of screenshot to see how to use this option.  I think you'll be impressed with the last screenshot that reveals a 3D design.  It's quite good.
FYI, lots of furniture options to incorporate in your rooms including bathroom.
Screenshots/Video:
5. RoomToDo
Also entirely online and free, RoomToDo is a fairly simple design tool.
It can render bathrooms in 3D which is great.
Like all others, it takes a bit of time to play around with but it's an option you should check out if you're set on free.
Screenshots:
Draw Walls2D Example3D ExampleFirst Person View
6. Room Sketcher
Room Sketcher is cool because you have the option to get them to do some drawings for you if you find it difficult to do your own designs.
As you can see from our screenshots below, you can design any room including detailed bathroom designs.
Screenshots/Video:
7. Small Blue Printer
Not my favorite, but I include this design tool because I like to err on the side of being overly inclusive.
As you can see from our screenshot examples, it's fairly dated in it's user interface.
My biggest beef is you need to download it, which I don't like. I much prefer software that's online (i.e. on the cloud).
Screenshots/Video:
8. Olympic Paint Color Visualizer 
If you need a bathroom color tool, check out Olympic's paint color visualizer (you can also check out our free color visualizer tool here).
Below we set out a series of screenshots showing how this can be used to help with bathroom color selection.
Screenshots:
9. My Deco 3D Room Planner

Screenshots/Video:
10. Lowe's Virtual Room Designer
With Lowe's design tool, you can specifically design a bathroom.  Check out image below.  The level of detail is quite good.
My favorite feature though is the pre-designed bathrooms so you don't have to start from scratch (but you can if you want).
Here are some images to see what you can expect with this software.
Screenshots/Video:
RoomsCameraDragDecorate2D
B. Paid Options
If it's more bathroom design horsepower you want, it's available, but for a price.
Below are some paid bathroom design tools and software you can check out.
11. SmartDraw Interior Design Software
I'm not a huge fan of SmartDraw, but include it because it's hugely popular and they offer design software for pretty much everything under the sun including bathrooms.
Here are a series of screenshots and examples.
Screenshots/Video:
FlowchartsFloor PlansCAD & DraftingEngineering DiagramsLandscape DesignVideo
12. Chief Architect

Now we're cooking with gas.
I own a license to the Chief Architect software and it's outstanding.  The level of detail and the quality of bathroom graphics are second-to-none.
It's a very robust platform so it takes time to learn, but if you're doing a serious reno or building a house, it's totally worth learning this design tool.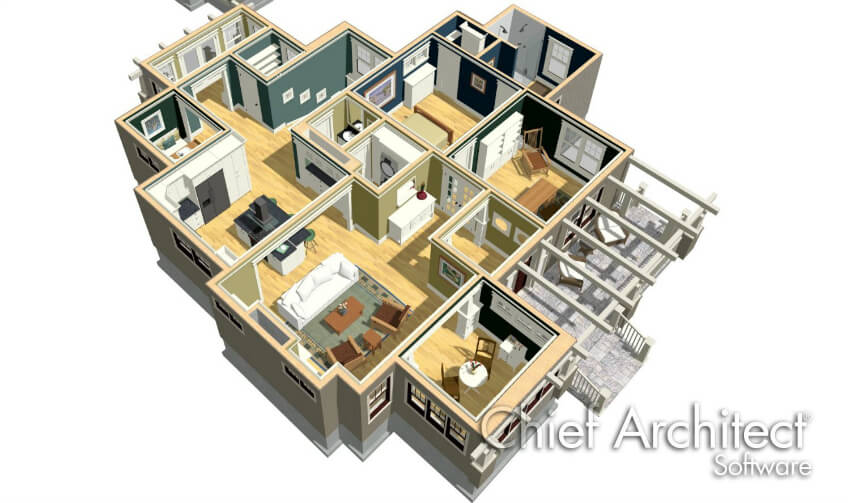 Screenshots/Video:
13. FloorPlanner

Even FloorPlanner is paid, the lowest priced option is very, very cheap.  Frankly, I overall prefer paid software because software that charges money is often better because there's funds to make it better.
This can be used entirely online to design your bathroom.
You can design for free, but pay if you want the design so there's no risk.  If you don't like what you can do with it, there's no cost to you.
Screenshots/Video:
14. Space Designer 3D
When it comes to design software, Space Designer 3D is one of the best.
With more than 5 million users, it's very popular even though it costs money.  What I like about it is as follows:
Easy to use;
Very detailed renderings.
Pay for just one design (or several).  This way you don't have to pay way more than you'll use it.
A lot of design features for every room including bathrooms.
Screenshots/Video:
15. Punch! Bathroom Software

Punch! design software is right up there with Chief Architect.  I also own Punch! software (landscape and interior design versions).  It does a spectacular job for every room including bathrooms (as well as outside the home).
If you're investing in design software, you can't go wrong with Punch! However, keep in  mind that this is a very robust platform so it takes time to learn (I enjoy using it and figuring it out… but I've put many hours into using this tool).
Save 25%: Click here and use coupon code HSPNCH25 (input coupon code when checking out to knock 25% off the price).
Screenshots/Video:
16. Sketchup Pro
Sketchup Pro is the big kahuna that many pros use (it's expensive).  It's amazing but you need to spend a lot of time learning it.  Also, in some instances you may need additional software for various renderings or dynamic renderings.
But you do get what you pay for.  This software can design anything and the level of detail is amazing.
Screenshots/Video:
Incoming search terms:
Tags: #16 #2018 #Bathroom #bungalow main door #Design #Free #main door #main door aluminium #main door arch #main door decoration #main door designs 2015 #main door entrance #main door entrance south direction #main door facing west #main door grill #main door grill design #main door grill design for home #main door handle price #main door in south east direction #main door lock price #main door muggulu #main door replacement singapore #main door types #main door vastu in hindi #main door white #Options #Paid #Tool
Related Post "16 Bathroom Design Tool Options for 2018 (Free & Paid)"